Designer Pendant Lights
---
Create Unique Spaces with Our
Designer Pendant Lights

Designer pendant lights are both decorative and functional, adding pops of colour and style while providing focused light. Most rooms are designed with one harsh overhead light—use one of our beautiful pendants to offer a softer alternative light for the areas you use for reading, working, or watching television.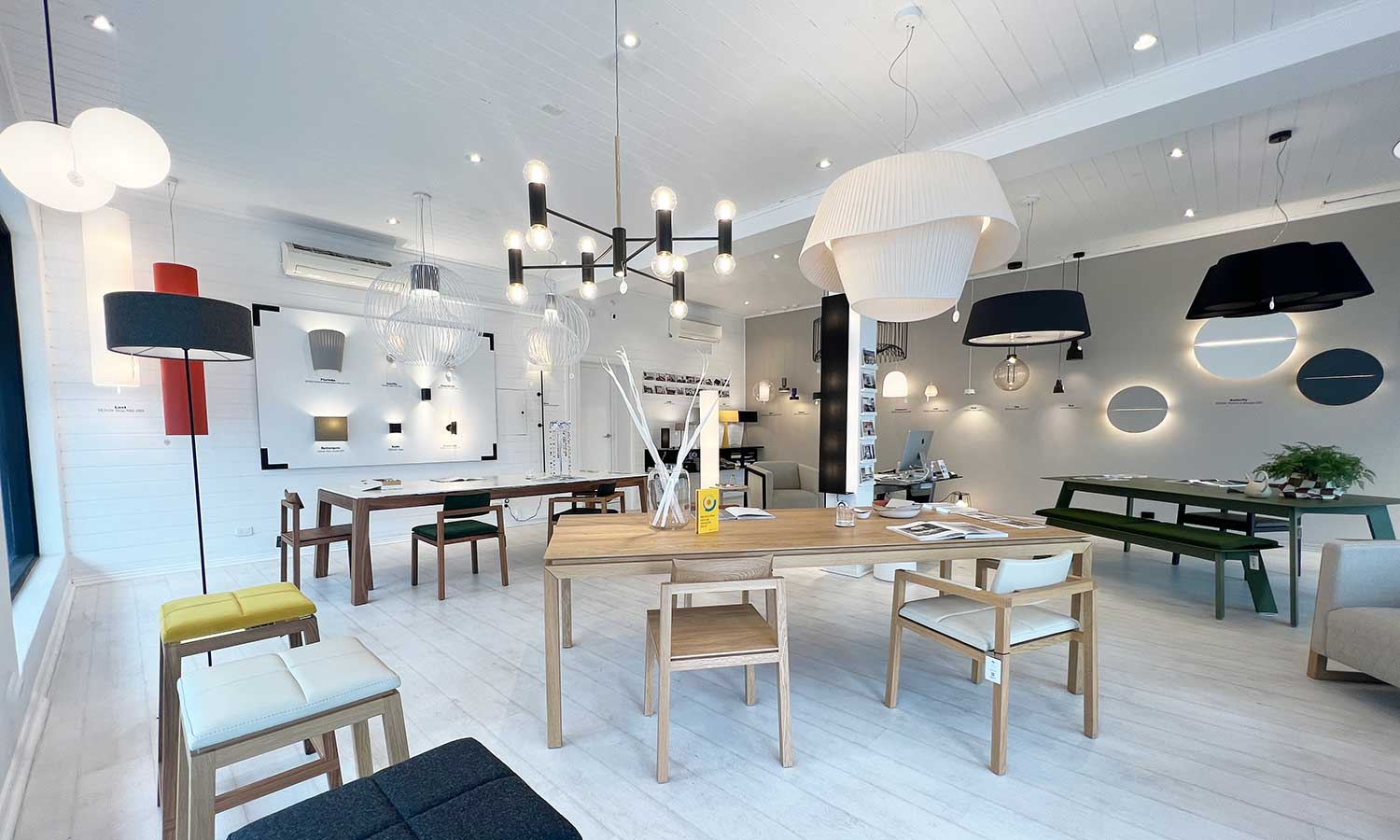 Adelaide Showroom
Espo provide lighting solutions to the designers who are responsible for the ideas; to the architects, the builders, and the engineers who make the ideas reality; and to the public who inhabit those realities.
Phone +61 8 7120 6297
Melbourne Showroom
At 259 Swan Street, we've created a space where designers and private clients alike can spend time experiencing the variety of our products in person, and get the personal service we always provide

.

Phone +61 3 9037 0893
---
The Benefits of Modern Pendant Lights

The modern pendant light does more than simply light a room.
The material can help manage acoustics – We carry designer lights made out of beautiful fabrics that absorb sound. In a large room, absorbing excess sound is essential for creating a calm and relaxing atmosphere.

They create visual interest and focus – Lighting is part of the décor in any room. The style and colour draw the eye up and, when lit, towards that area of the room. We are drawn to the most functional lighting area as we sit down and enjoy a good book or work on the computer without visual distractions from other parts of the room.

They can create multiple areas in one room – Open-plan greatrooms are more common in modern homes, and overhead lighting in these areas can be too harsh or too far away. Modern pendant lights allow you to separate the room into areas, such as a dining area, bar area, desk or workstation, and reading or entertainment areas. They also provide focused lighting to make an area such as a desk nook brighter and more usable.
---
What Sets Espo Lighting Apart Regarding Designer Pendant Lights in Melbourne?
At Espo Lighting, we believe in providing high-quality products and service to both commercial and residential clients.
We have two studios where clients can experience our lights in person: one in Melbourne and the second in Adelaide. When they are selecting lighting, we encourage everyone to visit us in person, but we do showcase our range online and can work with you to select the right light for your space anywhere in Australia or New Zealand.

We carry high-quality and entirely unique brands that reflect European design and materials. We are the exclusive Australian and New Zealand carrier for Modo, and we proudly carry Manooi and Inarchi. These brands offer unique concepts that will ensure your home or office reflects your individual style.

Modo Acoustic pendant lights make a statement but remain functional. The Alco has a fluid shape that adds visual impact to any room while providing lighting and assisting with acoustics. The Cilindro Soft Acoustic has a more classic look but with an up-to-date style. It is available in a range of fabrics that allow you to customise the light to offset your décor.
The Modo, Manooi, and Inarchi brands offer interesting and high-quality lighting that can become the centrepiece of any room in your home.

Why a Customer Should Use Espo Lighting
We have been operating for over ten years and have the knowledge and experience to fully assist you with your lighting requirements. We work with companies that embrace a European style and a modern aesthetic. Visit one of our showrooms to experience our unique pieces in person.

Melbourne Showroom
259 Swan St, Richmond VIC 3121
Phone +61 3 9037 0893
Opening Hours:
Tuesday to Friday 10am - 5pm
Saturday 10am - 4pm
Adelaide Showroom
442 Pulteney St, Adelaide SA 5000
Phone +61 8 7120 6297
Opening Hours:
Tuesday to Friday 10am - 5pm
Saturday 10am - 4pm
Send us a message at joseph@espo.com.au or by filling out the form below and pressing send message.